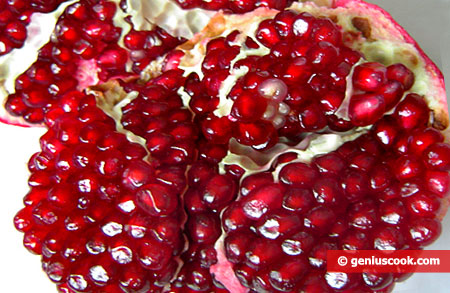 Pomegranates Protect from Breast Cancer
Previous studies showed that pomegranates and their juice are actively antioxidant and serve as an effective additional treatment for many dangerous diseases. Scientists connect this fact with a high polyphenols content in pomegranates.
Pioneer research was conducted at Beckman Research Institute of the City of Hope. After testing and investigating a number of pomegranate compounds, the researchers found that these compounds can potentially hinder estrogen formation that prevents cancer cell growth to a great extent. Pomegranates are rich in a series of components known as ellagitannins. In particular ellagic acid that is contained in pomegranates slows down the activity of aromatase and ferments which convert androgens into estrogens. Aromatase plays a key role in breast carcinogenesis so breast cancer growth stops.
Shiuan Chen, Ph.D., director of the Department of Tumor Cell Biology and one of the leaders of the Breast Cancer Research Program said that is was a great surprise for the researchers. Earlier they had discovered that grapes are able to inhibit aromatase, but not quite so effectively. As it happens, the phytochemistry of pomegranates and grapes is different. He added that the results are intriguing and promising. Since the search for natural antioxidants in this area is going on, they will get on with the research. But people can take more pomegranates and drink grenadine juice even now to protect themselves against developing breast cancer, and maybe other kinds of cancer as well. Scientists point out that pomegranates are also potent for endometriosis.
Note: Ellagic acid is also contained in raspberry and strawberry; it has a rejuvenating effect, unwrinkles and freshens the complexion.
https://geniuscook.com/wp-content/uploads/2010/01/Pomegranate.jpg
293
450
Elena and Alfredo
https://geniuscook.com/wp-content/uploads/2014/02/gc-logo2.png
Elena and Alfredo
2010-01-08 09:47:28
2010-01-08 09:47:28
Pomegranates Protect from Breast Cancer