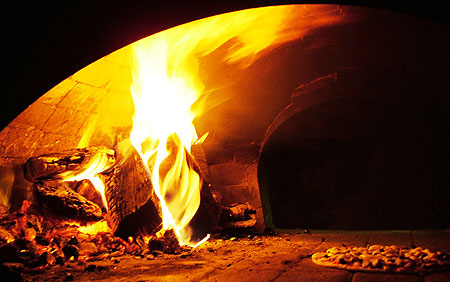 The Neapolitan Pizza Is Under Trademark Now
After numerous delays the Neapolitan pizza finally entered the Olympus of selected European products protected by special trademarks. So if someone in Brussels wishes to enjoy this pizza tomorrow, they can be sure that what they get is bona fide Neapolitan pizza that was prepared in accordance with the tradition. Its recipe, components and the way of cooking are under the guaranteed EC protection ensuring against forgery and imitation.
The pizza should be no more than 14 inches in diameter, with a thin bottom and the edges raised by 0.4-0.8 in. It should be prepared only with tomato sauce, mozzarella made from buffalo milk (Mozzarella di Bufala DOC), garlic, olive oil and fresh green basil leaves. The pizza should be baked only in a wood-burning stove. The dough should be soft so you can fold it like a book. The whole preparation process should be supervised. Only if the product is made in strict adherence to the rules they may call it the Neapolitan pizza and fix the trademark on.
The Italian authorities from the Ministry of Agriculture in Rome and Brussels worked much towards it and their work bore fruit. Naples is overjoyed and preparing for a celebration of the official international recognition of their pizza.