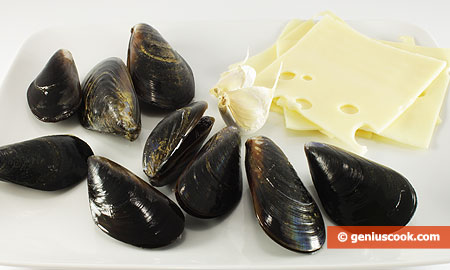 The Mussels Baked in Their Shells with Cheese Recipe
Surely fresh mussels are the tastiest when they are simply boiled for one-two minutes; by the way, it's better to boil them without water. They are heated up, the mussels open up and natural fragrant juice flows out. They are eaten straight from their shells drizzled with lemon juice. This is the way devout gourmets who enjoy the delicate taste and flavor of mussels prefer them. But sometimes we long for something special. We liked the combination of cheese, garlic and mussels. Just a little of garlic is needed for this recipe not to kill the specific mussels' taste but to set it off. And cheese will add piquancy to this dish.
Ingredients for Mussels Baked in Their Shells
30 fresh mussels
0.1 lb Emmentaler cheese
garlic clove
parsley stalks
Cooking Instructions
Rinse mussels well in running water.
Then open the shells with a knife. You need to do it carefully because mussels' fresh is fixed to both shells. You will have to cut the flesh from one shell first and only then open the shells in order not to tear the flesh.
Spread the mussels in their shells on a baking sheet. Sprinkle them with grated cheese mixed with mashed garlic.
Bake the mussels for no more than 3-4 minutes. When you see that the cheese has melted, you can take the baking sheet out of an oven.
Spread hot mussels on plates; sprinkle them with chopped parsley, water with lemon juice.
https://geniuscook.com/wp-content/uploads/2010/03/Ingredients-for-Mussels-Baked-in-Their-Shells.jpg
270
450
Elena and Alfredo
https://geniuscook.com/wp-content/uploads/2014/02/gc-logo2.png
Elena and Alfredo
2010-03-07 06:11:26
2010-03-07 06:11:26
The Mussels Baked in Their Shells with Cheese Recipe