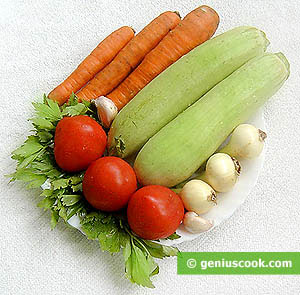 Marrow Stuffed with Vegetables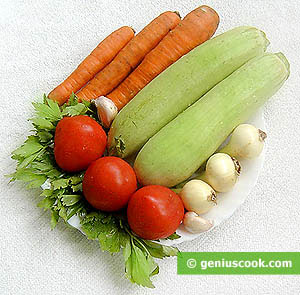 This vegetable dish is a good option for those trying to lose their weight or keeping a diet. As recent scientific studies show, thermal treatment increases the antioxidant properties of carrot and tomato. Simmering tomatoes in oil increases their lycopene content and turns lycopene into more digestible form. Marrows are tasty and very soft. And lovage gives this dish a kick and also helps to lose weight and remove toxins.
Ingredients for Marrow Stuffed
2 lb (1 kg) marrow
3 carrots
3 onions
2-3 tomatoes
2 garlic cloves
2-3 stalks lovage
3 tablespoons (50 g) olive oil
Salt to taste
Recipe of Marrow Stuffed with Vegetables
Wash and peel all vegetables.
Trim off the tips of marrows and cut in halves.
Cut out the flesh and chop the flesh finely.
Finely chop carrots, onions, tomatoes, garlic and lovage.
Heat oil in a frying pan and sauté onion.
Stir in carrot and sauté with onion for about 3 minutes.
Then add tomatoes and the marrow flesh.
Simmer everything together for 10 minutes.
At the end, add garlic and lovage and season with salt to taste.
Season the halves of marrows with a little salt and stuff with the vegetable mixture.
Put stuffed marrows into a deep frying pan, cover and simmer for 15 minutes until the marrows are tender.
Serve hot or cold.
Note: Optionally, make baked marrows and top with any grated cheese.