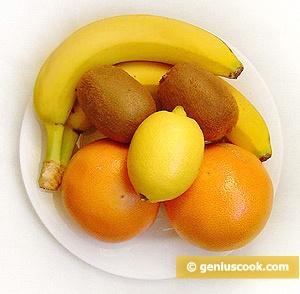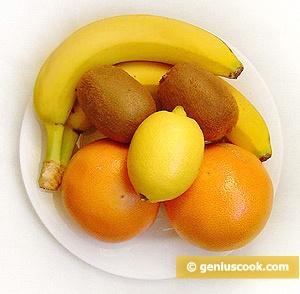 This is a light salad, which would be a perfect dessert for a romantic dinner.
This is also a good dish for dieting, because it contains vitamins А, С, Рp, В1 and others, microelements and is low-calorie.
All fruits complement each other perfectly and each of them gives its own taste and aroma.
The banana gives sweetness, the kiwi gives juiciness and a light aroma, the grapefruit gives piquancy and a bit of sourness.
This salad is recommended for children to provide them with vitamins, as a growing organism especially needs them.
Fruit salads are recommended to be often included to the diet.
Improvise, create something new.
If you want, you can add yoghurt or sour cream with honey or just honey to this salad.
Ingredients for Fruit Salad
1 grapefruit
2 bananas
2 kiwi
Honey to your taste.
Preparation of Fruit Salad
Peel the fruits. Detach the grapefruit skin, which has a bitter taste.
Cut into small pieces.
Mix everything.
Pour with honey.
That's it! You can gladden yourself and your friends and relatives with this tasty salad.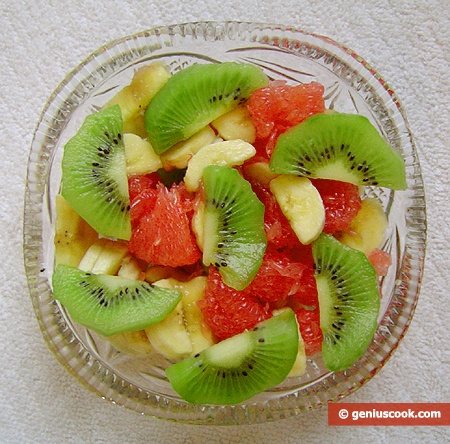 https://geniuscook.com/wp-content/uploads/2007/11/frukti-celie.jpg
294
300
Elena and Alfredo
https://geniuscook.com/wp-content/uploads/2014/02/gc-logo2.png
Elena and Alfredo
2007-11-16 12:47:08
2015-10-10 19:08:16
Fruit Salad