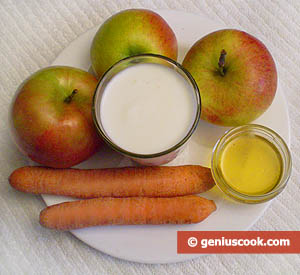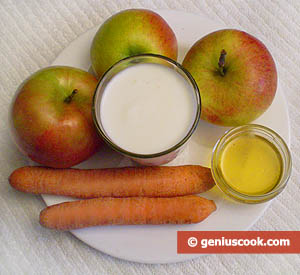 Try our quick and easy shake recipe. This shake is so healthy for adults and kids. Drink this cocktail and get all vitamins you need. Do you know that carrot is able to keep us young, make our skin elastic and may help smooth out wrinkles? Apple juice is a good source of iron and kefir removes harmful bacteria from our bowels. In addition, kefir is rich in proteins and contains milk fat that improves the uptake of beta-carotene content of carrots. So all the ingredients in this shake are really well-balanced. You can squeeze juices by yourself or buy them at stores. Just make sure you get one of those pulpy juices.
Ingredients for Carrot and Apple Shake
½ cup (100 ml) fresh squeezed carrot juice
½ cup (100 ml) pulpy apple juice
2/3 cup (200 ml) kefir
1 tablespoon honey
Recipe of Carrot and Apple Shake
Blend carrot and apple juice.
Add fresh cooled kefir.
Sweeten with a tablespoon of honey if desired.
Blend in a blender or just mix well.
Pour in glasses and enjoy your shake.