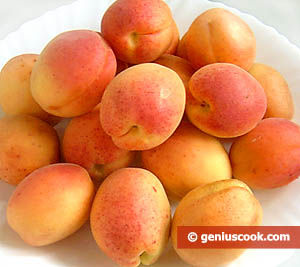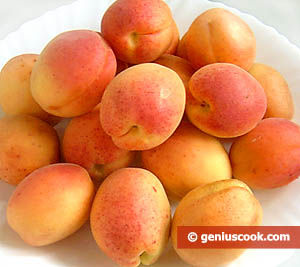 Apricot is the fruit of the apricot tree (known as Prunus armeniaca or Armeniaca vulgaris in Latin) that belongs to the rose family. Apricots have a distinct egg-like shape and vary in skin color from yellow to orange with a red cast when fully ripened. The seed encloses almond-like core ranging from slightly bitter to sweetish in taste. The apricot is thought to have originated in China. Then the tree distributed to the Central Asia and Armenia and further to the Mediterranean countries. Ripe apricot is sweet and juicy. 100g of the apricot flesh supplies 28 kcal.
Culinary Uses of Apricots
Fresh ripe apricots are eaten as a dessert after meals. Diced apricots are used in various tasty fruit salads.
They are squeezed to make yummy juices.
Pitted apricots are dried so that they are available year around.
Apricots are processed into delicious jams.
Apricots roasted with sugar are added to flavor liqueurs, brandy and cognac.
Useful Substances in Apricots
Carotenoids (the A vitamins)
Vitamins B, C, PP
Calcium, iron, phosphorus, magnesium, potassium and sulfur
Carbohydrates, proteins and fats
Apricots Health Benefits
Apricot is a dietary low calorie fruit that helps regulate the cardiovascular system.
Apricot is a great remedy against anemia as it promotes the production of hemoglobin.
It has strong anticancer properties.
Apricot may strengthen bones and teeth and improve eyesight.
It helps improve digestion and excites the appetite.
It may ease hemorrhoid-related symptoms. Apricot helps fight upper respiratory infections.
Apricot protects the skin from ultraviolet emission and boosts melanin production due to its beta-carotene content, which promotes smooth and nice tan.
Cosmetic Uses of Apricots
Skin care masks of apricot flesh or apricot seeds oil have a positive effect on the skin. They smooth out wrinkles, improve the complexion, reduce cellulite and make the skin more elastic.
Note: scientists claim that people live noticeably longer in the regions with traditionally high consumption of apricots. It is recommended to eat not less than 22 lb (10 kg) of fresh apricots over the season to get positive health effects.
https://geniuscook.com/wp-content/uploads/2009/01/apricots.jpg
267
300
Elena and Alfredo
https://geniuscook.com/wp-content/uploads/2014/02/gc-logo2.png
Elena and Alfredo
2008-07-11 08:22:57
2014-01-27 20:35:04
Apricot