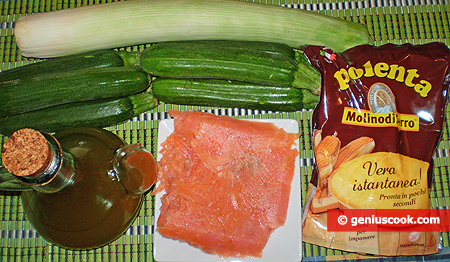 The Recipe for Polenta with Salmon and Zucchini
The combination of the tastes of soft polenta with stewed zucchini, leek and smoked salmon will leave no-one indifferent.
Ingredients for Polenta with Salmon
Corn flour: 500 g.
4-6 Not large zucchini(or 1 squash)
1 Leek
Smoked salmon: 200 gr.
Olive oil, salt: to taste.
The Recipe for Polenta with Salmon
Cut leek into rings and fry.
Add zucchini cubes and stew until soft.
Finally add finely cut salmon, mix up and turn off the heat.
To prepare polenta boil some water, pour in corn flour in a thin stream, mixing constantly. Boil until ready.
Serve polenta hot in portions on plates, top it with fried vegetables and salmon.