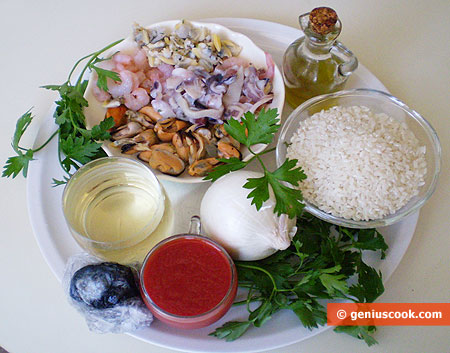 The Recipe for Black Risotto
Black risotto is an exquisite Mediterranean dish containing the gifts of the sea, and there is nothing more delicious. It is easy to make, given you have got cuttlefish ink that will provide the unusual color and the excellent rich trifle flavor.
Ingredients for Black Risotto
1.2 lb frozen seafood (cuttlefish, squid, shrimp, mussel)
6 tablespoons olive oil
1 white onion
0.2 lb grated tomatoes
1 1/3 cup dry white wine
0.7 lb rice
parsley
1 pack cuttlefish ink
vegetable or chicken broth
How to make Black Risotto
Defreeze the seafood, put aside shrimps and mussels – they will be put in at the end.
Dice onion finely and simmer it in olive oil for 2-3 minutes.
Then add seafood and tomatoes. Simmer for 5-6 minutes, then put in chopped parsley and wine.
After that add rice and simmer it until ready on low heat, adding broth gradually by ladle, the next ladleful in as soon as the previous one has been absorbed.
Two minutes before the rice is ready put in shrimps, mussels and cuttlefish ink. The rice should be a little hard if the risotto is done properly.
https://geniuscook.com/wp-content/uploads/2010/06/for-risotto.jpg
353
450
Elena and Alfredo
https://geniuscook.com/wp-content/uploads/2014/02/gc-logo2.png
Elena and Alfredo
2010-06-17 05:28:30
2010-06-17 05:28:30
The Recipe for Black Risotto