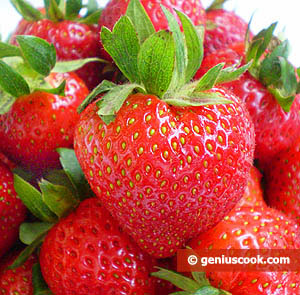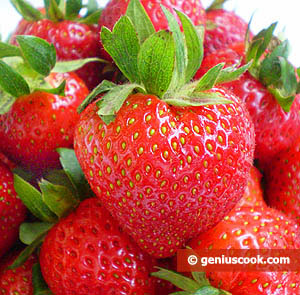 Strawberry (Fragaria vesca) belongs to the family Rosaceae. It is amazing that strawberry seeds, unlike seeds of other fruit bearing plants, are not inside the berry, but outside it. Since ancient times, the strawberry has been prized for its healing powers. Wild strawberry is a tiny and fragrant berry. Modern cultivated strawberry has large juicy berries and it was the result of crosses between two sorts of wild strawberry. Today, there are about two thousand of different cultivars. The strawberry season starts in May. And lucky are those who live in strawberry-growing regions as they get a chance to enjoy these fresh, sweet and healthy berries.
Strawberry Health Benefits
Due to high content of folic acid, or vitamin B9, the strawberry has strong blood-producing properties.This acid also helps maintain a good memory.
The strawberry contains zinc that is important for increasing sexual activity. It boosts sexual desire in both men and women so good that sometimes the strawberry is called a natural Viagra. Sex experts recommend both partners eat at least a handful of strawberries before the night of love.
The strawberry contains active substances that can improve heart function, make the blood vessels more elastic and lower blood pressure.
The strawberry is high in vitamins A and E that are also called the vitamins of beauty and love, as well as in the B vitamins and vitamin C. All the vitamins in strawberry are so well-balanced that it is more effective in supporting and promoting health than any supplement vitamin complex.
The strawberry is also rich in such minerals as potassium, magnesium and calcium that help improve cell breathing, inflow of energy to cells and restore the nervous system function.
The strawberry also contains so-called hormone of happiness that helps us to cope with daily pressures and gets us feel better.What's more, the strawberry has anti-cancer properties due to its antioxidant content.
Strawberry juice excites the appetite and is a good diuretic.
The strawberry also exerts positive cosmetic effects. Strawberry facial masks improve our face skin, bleaching it slightly and making it soft and silky as well as smooth out wrinkles. Just make sure your skin is not sensitive to strawberry and first apply some strawberry cream or a facial mask to your arm. Never miss the strawberry season and get all health benefits of this wonderful berry, a true elixir of beauty, health and youth.
Note: Eating strawberries with sour cream or whipped cream improves the uptake of vitamins A, E and helps achieve better health. Those keeping a diet could eat strawberries with kefir or yoghurt. 100 g of strawberries supply 27 kcal.
https://geniuscook.com/wp-content/uploads/2008/12/strawberry.jpg
295
300
Elena and Alfredo
https://geniuscook.com/wp-content/uploads/2014/02/gc-logo2.png
Elena and Alfredo
2008-05-30 18:17:14
2014-01-27 14:40:57
Strawberry