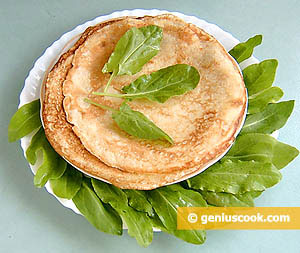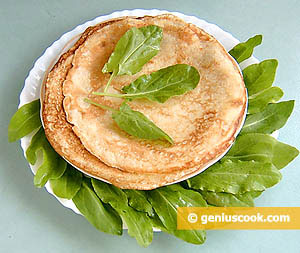 Whatever filling you use, thin pancakes are always tasty.
We though of filling them with sorrel and the result was unexpectedly pleasant. Sorrel is sour and adding sugar makes its taste amazingly good. As the filling has little calories, you can enjoy these pancakes even if you keep a diet.
Sorrel is good for digestion, especially for those with abdominal flaccidity and engorgement. In addition, sorrel is rich in ascorbic and oxalic acids.
Ingredients for Pancakes
2 cups (500 ml) milk
1.2 cup (300 g) flour
3 eggs
3-4 tablespoons vegetable oil
Salt and sugar to taste
1 pinch of baking soda
Ingredients for the Filling
300 g sorrel
3-4 tablespoons sugar
Recipe of Pancakes
Break 2 eggs into a bowl and pour milk in.
Add sugar and salt to taste.
Beat everything well.
Steadily add the flour, baking soda and vegetable oil.
Mix everything well and beat.
Beat until smooth batter.
If the batter is thick, add some milk or water.
Coat a cast iron frying pan with oil and warm through.
Pour a ladle of the batter and move the mixture around to spread batter evenly over the pan.
One ladle or a half of it (depending on the pan size) makes one pancake.
Make pancakes over high heat and cook each side for about 1-2 minutes.
Cook until brown.
Recipe of the Filling
The filling is very easy to make:
Wash and sort out sorrel leaves. Trim off firm steams.
Chop sorrel leaves and dust with sugar.
Place the filling along one half of each pancake.
Roll the pancakes up.
Brown for 1 minute on both sides.
Cut in half, arrange on a serving plate and top with a little sugar.