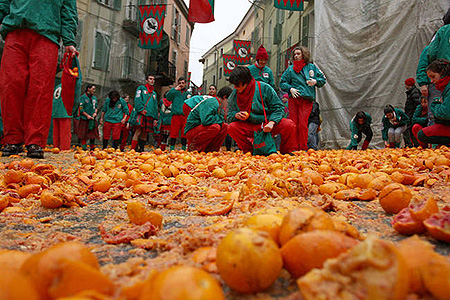 Every year a train carrying tons and tons of oranges runs from the south of Italy to the north, to Piedmont, the city of Ivrea; it goes there with the sole purpose of supplying the local festival known as the Orange Battle with juicy weapons.
The battle is the carnival's high point. The action lasts for 3 days in accordance with strict rules set in the XIIth сеntury. If you came over for the festivities but don't feel like participating in the fracas, you have to buy a red pointed hat – only then you can be sure that you won't get brained with a hefty orange, in Ivrea they are great believers in tradition. Whereas injuries are quite common during the festival, and there is always an ambulance standing by.
Noblemen are riding about the town doing their best to keep off the common folk who are out to lam at them as hard as they can. It all ends with the participants hugging one another and proclamations of freedom for the citizens. The casualties are oranges solely.
It is worth mentioning that only deficient fruit that don't sell are sent to the battle.